Section: Article image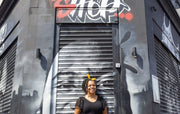 Section: Article title
Brixton's hip hop chip shop
September 28, 2020
Section: Article content
Chip Shop is based at 378 Coldharbour Lane, right at the point where the street crosses over Brixton's bustling Atlantic Road. Its walls are spray-painted with the larger-than-life faces of some of hip hop's biggest names: 2Pac, Biggie Smalls, Eazy-E and more. Why? Brainchild of MICHAEL LYTHGOE and partner CIDALIA RODRIGUEZ, the unconventional restaurant brings together their two great loves- fish and chips, and hip hop. A curious combination, that absolutely works.
As part of our Characters of Coldharbour Lane series celebrating the people behind the street that inspired Coldharbour Lager, we met with Cid to talk about her time in Brixton.
Q: Can you explain the concept behind Chip Shop, and how it came about?
My partner Michael is from Liverpool so he grew up eating fish and chips, plus he loves hip hop, so he wanted to open a business that combined his two passions. We do fish and chips, but we're also famous for our music events. We've had very famous rappers in here performing: Klashnekoff, Ice T, loads. We had Cormega for our first event, and then people just started contacting us about performing here. We have capacity for 100 people – so when we have these big celebrities it creates a really exciting, intimate vibe. People go crazy, standing on the bar; it gives everyone goosebumps.
It's not all about the celebrities though. We also do open mic nights which are great too. We've had people from Italy, Spain, rapping in Italian. We get lots of local young kids performing too, there's so much talent in Brixton.
Q: How long have you been based in Brixton?
I'm originally from Portugal but I came over 30 years ago and since then I've always been in Brixton- I love it! There were five of us at home, all the same age, and it was just getting too much for our parents. My brother had already come to London to work and he suggested I come over too, so I did and I never left! I've lived here longer than in Portugal now and I feel like a Londoner. My children were born here. We just go back to Portugal once in a while for a holiday.
Q: What is it that you love about Brixton?
You can get anything here. Chinese, Polish, Portuguese. The market is full of fresh meat and fresh fish and it's great quality- being Portuguese we love that.
Q: What about Coldharbour Lane itself? Has it changed a lot over the years?
I remember when I first came here there was barely anything in the market and lots of the road was boarded up. Then everything just exploded. To me, maybe because I'm a business owner, I think it has moved in a good way. People are safer and it's thriving now. All of my staff, my meat, fish and vegetables are from Brixton- so we're giving back to the community and supporting other local businesses. I know that people complain but we're bringing awareness to Brixton, bringing people and money here.
Q: What beers do you serve?
We try to link our beers to the hiphop we play so we have one from Brooklyn, one from Chicago; but we wanted to support a local brand too so we've stocked Brixton Brewery ever since we opened. We even use it for the fish batter! It's delicious. 
Q: How has COVID impacted your business?
We used lockdown to fix up some stuff, paint the floor and all that. And we were on Deliveroo which kept me busy! Now that we've reopened it's obviously different. We're not doing events so it's not as crazy before but that's okay. Because we can't have that many customers inside now you can connect more with all the people who come in, which is really nice.
Portraits from our Characters of Coldharbour Lane series will be on display at the Brixton Brewery Tap Room from 23rd September – 7th October or you can see them as they drop on Instagram @brixtonbrewery. Look for Coldharbour Lager at bars and bottle shops throughout London and beyond (or shop via our website here). Grab one and take refuge from thirst.  
Section: Newsletter signup
Sign up for our latest news
Send me personalised offers and news about the Brixton Brewery brand via email and online targeted adverts. Brixton Brewery Limited will process your data in accordance with our Privacy Policy. You can withdraw consent by clicking unsubscribe in any email or emailing protectyourdata@brixtonbrewery.com.