Section: Product main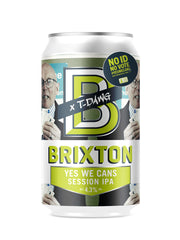 We've teamed up with T-Dawg, the Rapping Returning Officer and District Council MD, to ensure that as many people as possible head to the polls with valid photo ID on May 4th 2023. Watch the viral video here.
BEER a good citizen and make your voice heard! Yes We Cans is brewed with the spirit of political participation and inspired by the fresh beats and rhymes of T-Dawg, the Rapping Returning Officer. It's all about making a difference in the local ALEctions this May. So remember your photo ID, do your duty, then have a brewsky.
Cheers to making a difference in our communities, one vote at a time. This is a LTD EDN beer containing our Low Voltage Session IPA.