Section: Article image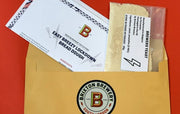 Section: Article title
We're raising funds while you raise bread!
April 30, 2020
Section: Article content
In what we hope is exciting news for all you home bakers out there, we have decided to make our own supply of brewer's yeast available to buy on our webshop!
The coronavirus lockdown has had many unforeseen consequences. Maybe one of the less expected has been a national shortage of yeast, which has prevented many of us from being able to perfect our bread-making skills while we have the time.
When we heard this news (then confirmed the absence of dried yeast in all our local shops!) we knew that we had to do something to help. We checked our stock of brewer's yeast and realised that we had enough to spare, and decided to make some available to buy on our website. We really hope that by doing this more people will be able to indulge in the joys of home bread-making and that we can raise some additional funds for Norwood & Brixton Foodbank while we're at it.
You can head to our webshop to buy the yeast in 30g sachets (enough for 6-8 loaves) for £5 including postage. All profits are being donated directly to the foodbank.
We're also including an easy-to-follow recipe for home-made bread with every order, including some tips and tricks from our two resident baking experts –  delivery driver Roberto (the acknowledged Master) and brewer Francesco. Although not exactly the same as the dried yeast sold in supermarkets (both are Saccharomyces cerevisiae), brewing yeast works well in most bread recipes. Yeast is yeast, you might say.
Our first attempt turned out pretty well!
So get baking! And don't forget to tag us in your baking pics @Brixtonbrewery
PS: We are still donating £5 from all Brixton Brewery T-shirt sales to Norwood & Brixton Foodbank- just FYI in case baking isn't your thing!
PPS: For more information about the foodbank, including how to donate directly, and what items are critically needed, head to their website: https://norwoodbrixton.foodbank.org.uk/
Section: Newsletter signup
Sign up for our latest news
Send me personalised offers and news about the Brixton Brewery brand via email and online targeted adverts. Brixton Brewery Limited will process your data in accordance with our Privacy Policy. You can withdraw consent by clicking unsubscribe in any email or emailing protectyourdata@brixtonbrewery.com.