Section: Article image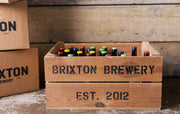 Section: Article title
FOUR SEASONS UNDER THE ARCHES
March 12, 2017
Section: Article content
In some ways, running a brewery has a soothingly timeless rhythm to it – the daily same-ness of making beer, testing beer, packaging beer and selling beer. In other ways, the quality of the beer and character of the brewery itself are shaped by the rhythms of seasons. We brew our beer in an arch under a railway line, very much open to the elements, and to the life of Brixton Station Road. It's easy for people to stop by, stick their heads in and see what we're up to – and many do. Usually they walk away with a few bottles to try. Conversations often start "I was just walking past and…" The openness makes it easy for us to keep in touch, to get to know regular customers, and to make new connections. We love the space, even as it has its layout challenges and size limitations.
We've been around for over three years now, and every year we've grown, our beer has travelled further and further from Brixton, and our team has grown and changed as we have. This past year has been no different. We'll start with autumn, because that's the season in which we first started.
Autumn
Autumn 2016 marked our third birthday, and was probably the year in which everything really came together for us as a well-oiled brewing business. Things felt more steady and planned, and a bit less improvised as we moved out of the start-up years. We celebrated with the launch of Hurricane (link), our double strength Atlantic APA, a storming whirl of crisp hoppy energy that gained many fans. We had a special label designed for occasion, in which the B for Brixton became a 3. A surprising number of people wrote to ask for it as a souvenir for three-year-olds they know named Brixton. Happy third birthday to Brixtons everywhere. Hurricane will be making a repeat appearance at this time in 2017.
A label detail from our celebratory third birthday Hurricane IIPA
Winter
Christmas is the season of our annual Megawatt Double IPA, crafted specially to take the edge off the winter chill and bring a little cheer to the early nights. We welcomed some much-needed new members to the brewing, office and events staff just in time for the manic Christmas season. Every hectic December working day, we took a moment to give thanks to our Meheen bottling and labelling machine, which is pretty much all of our Christmas presents come at once. Last year at the same time, we were hand bottling, capping and labelling every single bottle ourselves. We've long prided ourselves in our hand-crafted approach but we were pretty happy to let the robots take over the boring bit so we can focus on more interesting things. Like new recipes, and consistently top quality brews.
One wise Megawatt (far left), Yoda and a warthog…
Spring
As the weather warms, our thoughts inevitably turn to lager. We started making our Coldharbour Lager in 2015 and it quickly became one of our most popular fine weather beers. Making lager can be tough for small breweries. They need to slow ferment in cold conditions, and the process takes around three weeks. Compared with just a few days for ales, this means that precious tank space is out of commission for a lot longer. Capacity has always been one of our biggest challenges – we mainly sell it as fast as we can brew it. But you can't mess with seasonal drinking favourites, so this year we've managed to squeeze in a few more tanks and fermenters. Coldharbour Lager will be keeping you cool and hydrated in barbecue season 2017 and beyond.
More tanks mean more beer! Increased capacity in Arch 547
Summer
Foodie destination that Brixton is, it was only going to be a matter of time before we sorted out a collaboration with a local chef. We developed the deliciously spicy Market Saison, subtly flavoured with green tea and Jamaican sorrel flowers, for Masterchef winner Tim Anderson's brilliantly experimental ramen restaurant Nanban. For an extra twist of keeping it local, we enlisted the exuberant talents of resident designers Eley Kishimoto for the label. The Market Saison will be available again this spring with some new flavour combinations planned.
Our Market Saison collaboration with Nanban, label by Eley Kishimoto
That, in a few short paragraphs, is a quick blast through our brewing calendar. We remain eternally grateful for the incredible support we've had from friends, family, the brewery team, Brixtonites, beer lovers, and our trade customers. It's been a wild ride for us as brewers and business owners. We're still growing and developing new recipes while keeping our core range of beers fresh and flowing. Brixton continues to be a great inspiration for us. We're happy to be here, making great beer.
If you want to a chance to see the brewery, find out more about us, and have a unique night out, come along to one of our regular tour and tasting sessions (details and tickets here), or check out our Tap Room, open 12 til 6 every Saturday at Arch 547, Brixton Station Road.
Section: Newsletter signup
Sign up for our latest news
Send me personalised offers and news about the Brixton Brewery brand via email and online targeted adverts. Brixton Brewery Limited will process your data in accordance with our Privacy Policy. You can withdraw consent by clicking unsubscribe in any email or emailing protectyourdata@brixtonbrewery.com.