Section: Article image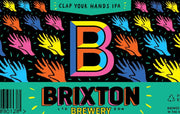 Section: Article title
Design Your Own Beer competition results!
May 6, 2020
Section: Article content
When we launched our Design Your Own Beer competition, we were in the first surreal week of lockdown and we thought people might welcome a little distraction from everything going on around us. We often get asked about our colourful and distinctive labels inspired by the normally colourful and buzzing Brixton (it'll be back one day soon!) and we were excited to see what people would come up with on their own.  
We invited people to download our beer label template, come up with a creative name and get colouring in! To say we've been absolutely blown away by the imagination, the effort and the all-around care that went into the submissions would be an understatement. We've loved each and every one – from the most professional to the crayon and stick figures – we salute them all. Some people wrote to tell us the story behind their design, others let the artwork speak for itself. There were lots of tributes to key workers and to Brixton. Some took our existing labels as inspiration, and others went gloriously off in their own direction.  
Our initial plan was to pick a winner and send them a case of beer, but when it came to judging, we realised that choosing just one would be impossible. So we've decided to pick four winners and a swathe of runners up – and all will have prizes! Our overall winner will receive 24 beers, each category winner will receive 12 beers and we've got keyrings and pins for all of our runners up. So, without further ado…
OVERALL WINNER: Nathan Reed, Clap Your Hands
COLOURED BY HAND WINNER: Josh Kerry, Bricktop
Runners Up: @Char_br0iled, Stay At Home Brew and @tunsofbeer, Recharge
LOCKDOWN LIFE THEME WINNER: Emma Hayes, Stockpiling
Runners Up: @julia_peculiar_, The Staying Inn and Stewart Kerr, National Hero Special
PEOPLE'S CHOICE WINNER: Luke Fuller, Two Meter-You
And some more of our favourites.. there were so many good ones!
Thank you everyone who took the time to enter; it's definitely brightened up our lockdown, and hopefully yours too. Stay safe! Love, Team BB 
Section: Newsletter signup
Sign up for our latest news
Send me personalised offers and news about the Brixton Brewery brand via email and online targeted adverts. Brixton Brewery Limited will process your data in accordance with our Privacy Policy. You can withdraw consent by clicking unsubscribe in any email or emailing protectyourdata@brixtonbrewery.com.