Section: Article image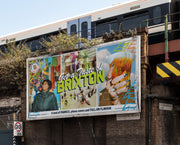 Section: Article title
An all inclusive holiday for your mouth
May 18, 2023
Section: Article content
Our brand new ad campaign aims to capture the 'grit and glitter' of our South London home by taking inspiration from vintage travel ads.
The integrated campaign, created by Otherway London, pays homage to the lo-fi 'wish you were here' nostalgia of tourist postcards from years gone by. But rather than the usual beach and pier shots, the ads feature the charming chaos of urban life, from pavement pigeons to abandoned supermarket trolleys and market stall butchers, lending humour and a tongue-in-cheek character to the campaign. Captions like 'An all-inclusive holiday for your mouth' and 'The glittering jewel of south London' bring a playful retro feel.
Launching on 22nd May, the campaign features a range of bold and eye-catching OOH posters, a series of online travel films, digital banners and a targeted underground campaign; where riders will see the brewery take good-natured aim at other, arguably less distinctive, parts of London with captions like 'Life's way too short for Oxford Circus' and 'Seriously, who gets off at Warren Street?' inviting people to continue their tube journey south and, in its words, 'Get a Taste of Brixton'.

"We're bringing that special Brixton mix of what we call the grit and the glitter to this campaign," says brewery Co-Founder and Managing Director, Jez Galaun. "There's so much buzz and joy in bringing diverse groups together, as you see in Brixton, and we always want to give people a flavour of that, wherever they are or wherever they're from. We want to celebrate all the things that we love about where we are, not just the typical shiny tourist-friendly bits. What makes Brixton so special is the way everything and everyone comes together to create something greater than the sum of all those diverse parts. With all due respect to Oxford Circus, you'll never regret staying on the Victoria Line until you get to Brixton."

The campaign also builds on the success of last year's Electric Collective Initiative, working with local creatives to pay tribute to Brixton. This year we have partnered with Brixton-based photographer Freddie Payne to capture a series of authentic street shots, as well as commissioning local musicians Ayo Salawu and Renato Paris, to create an original music track called 'Coldharbour Lane,' inspired by the local area.
Since the foundations of our brewery in 2013, we have always embraced and been inspired by the colourful chaos of the neighbourhood we call home. Local places and designs are front-and-centre in our beer names and packaging but, with this latest ad campaign, we hope to shine an affectionate spotlight on some of the less-often celebrated aspects of city living.
See more from the campaign and learn about this year's Electric Collective partnerships on our social media pages, and let us know what you think of the campaign!
Section: Newsletter signup
Sign up for our latest news
Send me personalised offers and news about the Brixton Brewery brand via email and online targeted adverts. Brixton Brewery Limited will process your data in accordance with our Privacy Policy. You can withdraw consent by clicking unsubscribe in any email or emailing protectyourdata@brixtonbrewery.com.