Section: Product main
URBAN ANIMALS - GREEN HOP PALE ALE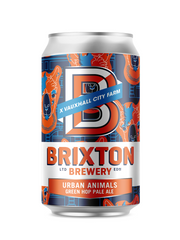 Country bumpkins step aside, Urban Animals is one for the cool kids (and cows, pigs or chickens) whose natural habitat is the bright lights of the big city. Made using freshly harvested hops grown at Vauxhall City Farm, this green hop pale ale celebrates those hidden corners of the metropolis where surprising things live, grow and thrive on being alive and part of the hive.
This new limited edition beer comes in three different can designs, each inspired by some of the farm's most famous residents. You can visit the real animals behind these characters, and many more at Vauxhall City Farm. Click here to donate.
URBAN ANIMAL #01 - JERRY THE ALPACA - This is Jerry the alpaca, and he sure loves to party. Often sighted dancing the night away under Vauxhall's railway arches, he loves nothing more than a sweaty dance floor and heavy drum and bass beats. A sensitive soul, he does takes offence easily and has a nasty habit of spitting at those who get on his bad side- so if you see him on a night out make sure to look him in the eye and give him a big high five.
URBAN ANIMAL #02 - BRITNEY SPURS - Britney Spurs (she/her) is a real show pony Queen – have you seen her on RuPaul's Nag Race? Britney is a feisty filly. If you want to keep up, you need to slay in the saddle and be out pasture bedtime. Vauxhall is her favourite stomping ground. Yes, she likes them apples. The one place you'll never find her is at the Horse Meat Disco though. Neigh thank you!
URBAN ANIMAL #03 - CHERYL THE CHICKEN - Cluck cluck. Hen about town Cheryl is a chick not to be messed with. She claims she works in IT but some suspiciously long absences abroad, her perfect grasp of the Russian language and a daily commute to Thames House in Vauxhall – that's right – the headquarters of MI6 – might make you think otherwise. You can visit Cheryl and lots of other amazing animals at Vauxhall City Farm.
*All proceeds from this fresh-as-they-come brew will be donated to Vauxhall City Farm
INGREDIENTS: WATER, BARLEY, WHEAT,  HOPS, YEAST.
CONTAINS GLUTEN