Section: Article image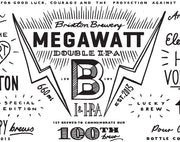 Section: Article title
MEGAWATT IIPA - Our 100th brew
December 16, 2014
Section: Article content
To celebrate reaching the 100 brew milestone we decided to venture into new territory and make an Imperial IPA. We named it MEGAWATT and think of it as Electric IPA's big brother. It turned out at 8% on the nose and is hopped with tropical Topaz, Chinook and Mosiac. Two of which are totally new to us.
We're really pleased with how the beer turned out, it's well balanced, decadent and full of flavour. We also designed a new label inspired by the spiritual candles you can find in Brixton market.
It sums up the excitement and exuberance of our first full year in business and think of it as a 'Thank You' in a bottle to everyone who's supported us so far. We hope you enjoy it and keep the bottle as a souvenir. CHEERS!
Section: Newsletter signup
Sign up for our latest news
Send me personalised offers and news about the Brixton Brewery brand via email and online targeted adverts. Brixton Brewery Limited will process your data in accordance with our Privacy Policy. You can withdraw consent by clicking unsubscribe in any email or emailing protectyourdata@brixtonbrewery.com.