Section: Article image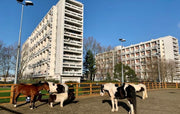 Section: Article title
Horsing around with Ebony Horse Club
March 17, 2021
Section: Article content
We've teamed up with the amazing Brixton-based charity Ebony Horse Club to offer you the chance to win a riding lesson and a case of Brixton Brewery beer! 
On Monday 29th March at 5pm they'll be taking over our Instagram Live, to give our followers a tour of the club, an introduction to their fabulous horses and to announce the winner of the competition!
For your chance to WIN, we're asking you to get creative and bring to life a scene featuring your favourite Ebony horse, out and about in Brixton. You can use whatever medium you like best (drawing, collage, poetry?!) – all you have to do to enter is share your submission on Instagram and tag @brixtonbrewery and @ebonyhorseclubbrixton.
To get you inspired, Ebony Horse Club have kindly provided some dating profiles info about each of their gorgeous, personality-filled horses. We'd swipe right for any one of them!
Splash

The ultimate lad, the way to his heart really is through is belly. Give him some hay and he will be yours for …five minutes. He is a charmer but don't expect any manners from him, he would trot straight through to you get to the nearest carrot. Splash is a bit of a celeb though and always makes sure he is poised for a photo shoot.

Two truths and one lie:

Splash has appeared on Blue Peter, Splash has attended a royal garden party, Splash has a Brixton Brewery Beer named after him.

Eddie

Good looking and he knows it. He is the leader of the pack and wants you to believe all he really cares about is hanging out with the lads. But, get him on his own and he will show you his sensitive side, he loves nothing more than a nuzzle with his huge moustache.

Likes: Eating hay with his mates down the paddock

Dislikes: Losing in a fist/hoof fight.

Poppet

Looks can be deceiving. The cutest little equine on the block, measuring the height of just 6 pint glasses. He might look small but what he lacks in height he makes up for in character.  What Poppet wants, Poppet gets.  

Rose

The real life unicorn.  We are not quite sure this mystical beast ended up in Brixton but she has been gracing us with her presence and sparkle since 2020. Time spent with Rose would involve her checking her hair in the mirror and making sure her unicorn horn is selfie ready.

Nick names: The Princess, Princess Rose, Rose the Princess

Joe

Joe looks like a horse and a panda combined with his big black eyes. The sensitive soul of the group, expect to find him to crying about this year's hay shortage and hiding from the alpha males behind a tree. He might be the biggest horse in Brixton but he is the biggest wimp too.

Fun fact: Joe once tried to eat a piece of tinsel but then got so scared he weed himself. 

Blossom

Blossom by name and Blossom by nature. This one is sweet as the come, charming humans all over town with her two tone mane and her eye lashes to die for. With a face made for Instagram she is living her best horsey life as the urban equine to follow.

Bucket list: To gallop through the waves of the sea on a beach in Bali.

Bailey

Named after the Irish tipple and he will make you just as giddy. Bailey is part puppy, part horse. Loves to put anything in his mouth including broom handles, human fingers and coffee, so expect him to slobber all over you.

Best friend: Poppet, the miniature pony who will act as his bodyguard wherever he goes.

Molly

She is as cool as a pint of Electric IPA.  The leader of the girl gang, Regina George has nothing on her. With her fetch mane blowing in the wind she literally begs for attention – and treats. The sassiest mare this side of the Thames.

Favourite food: anything fed to her by her human subordinates.
About Ebony Horse Club: Our mission is to use horses to raise the education, life skills, wellbeing and aspirations of young people from disadvantaged communities within Lambeth. At Ebony we believe that the opportunities you're given shouldn't be limited by the postcode you are brought up in, so in 2011 we built our centre right in the heart of South London, Brixton. Just a stone's throw from the famous 'Electric Avenue' and buzzing Brixton Market, you'll find our stables nestled right between tower blocks and overground lines.
Section: Newsletter signup
Sign up for our latest news
Send me personalised offers and news about the Brixton Brewery brand via email and online targeted adverts. Brixton Brewery Limited will process your data in accordance with our Privacy Policy. You can withdraw consent by clicking unsubscribe in any email or emailing protectyourdata@brixtonbrewery.com.