Section: Article image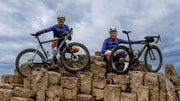 Section: Article title
FROM BELFAST TO BRIXTON: We go the distance for local bike charity
June 21, 2022
Section: Article content
In another chapter in the long love story between beer and bikes, Brixton Brewery is partnering with Northern Ireland based Scribe Cycling, manufacturers of high-performance bike wheels, with each one contributing expertise on what they do best. The collaboration has produced a set of a wheels, to be tested out on an epic 900km bike ride from Belfast to London, and the very tasty BeLo Hazy Pale Ale beer. BeLo (named in honour of the great cities at the start and finish) launches in the Brixton Brewery Taproom on 25 May to celebrate the collab – and the survivors of the ride. Proceeds from the partnership will go to support Brixton cycling charity UpCycle, which provides bikes and bike maintenance training to local young people in need.   
Mike Ross, Co-Founder of Brixton Brewery, is travelling up to Belfast and bringing with him his current bike wheels. These will be exchanged for the custom Scribe set as part of their Re-Gen wheel recycling scheme. As a passionate cyclist and the driving force behind Brixton Brewery's bike partnerships, this will be Mike's longest cycling challenge so far. "This is basically everything I love in one go – bikes, amazing design, a long ride taking in some incredible sites - like Giant's Causeway and Snowdonia, a beer to finish and money for a cause very close to me – making cycling more accessible. It's the dream!"
Mike was both excited and terrified to learn he will be joined on the journey by competitive Irish road cyclist Lindsay Watson, as well as some members of the Scribe team for portions of the ride.
The journey starts on 20st May, finishing in the Brixton Brewery Taproom on 25th May for the launch party of BeLo Hazy Pale Ale – a super juicy and refreshing brew. Brixton Brewery Taproom is open from 5pm on 25 May to welcome Mike and Lindsay and hand out the beers. All are welcome to join!
You can follow the trip via @brixtonbrewery and @scribecycling
Check out our charity partner UpCycle on @upcycleldn_
Section: Newsletter signup
Sign up for our latest news
Send me personalised offers and news about the Brixton Brewery brand via email and online targeted adverts. Brixton Brewery Limited will process your data in accordance with our Privacy Policy. You can withdraw consent by clicking unsubscribe in any email or emailing protectyourdata@brixtonbrewery.com.