Section: Article image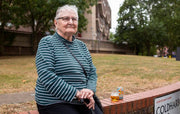 Section: Article title
Characters of Coldharbour Lane wins Guild of British Beer Writers Award
December 16, 2020
Section: Article content
We are absolutely thrilled to have won the title of Best Corporate Communications at the Guild of British Beer Writer Awards 2020 for our Characters of Coldharbour series.
The Guild of British Beer Writers is the organisation for beer communicators and represents some incredible talent. We highly recommend having a look at the list of nominees on the Guild website and checking out their work if you love great writing. 
If you're a regular reader of our blog you probably saw some of the content from our series here over the summer. We highlighted some of the people and businesses along Brixton's Coldharbour Lane, namesake and inspiration for our popular Coldharbour Larger.
The series featured portraits by local up-and-coming photographer Amari James, paying homage to some of the people who have made the street what it is today. From the architect of the building sometimes mistaken for Brixton Prison (which also inspired the zigzag pattern on the Coldharbour Lager cans) to the chip shop famous for its live DJs, Characters of Coldbarbour Lane was a celebration of a slice of time along this buzzing Brixton thoroughfare.
"We spoke to people who represent both 'old' and 'new' Brixton. Some who are running family businesses that have been on the street since the 1950s, and others more recently arrived. Despite their different stories, what struck us was how much everyone had in common: a deep respect for the local area, and a desire to serve their community as best they can. We also wanted to shine a light on businesses as they reopen after lockdown and the famous Brixton streetlife returns." – Jez Galaun, Co-founder of Brixton Brewery
The photographs and interviews from the campaign were featured on our social media channels, and brought to life in print by Posterzine. The photographs are also on display Brixton Brewery Taproom (Arch 548 Brixton Station Rd, Brixton, London SW9 8PF).
Read the interviews here:
Magda Borowiecka, lead architect for Southwyck House (a.k.a – The Barrier Block)
Oliver Williams, Kool Kut barbers
Cidalia Rodrigues, Chip Shop Brixton
Brian Danclair, Fish, Wings & Tings
Melanie Brown, The Laundry Brixton
Raz & Jimmy, Jimmy's Plaice Fish & Chip shop
Section: Newsletter signup
Sign up for our latest news
Send me personalised offers and news about the Brixton Brewery brand via email and online targeted adverts. Brixton Brewery Limited will process your data in accordance with our Privacy Policy. You can withdraw consent by clicking unsubscribe in any email or emailing protectyourdata@brixtonbrewery.com.