Section: Article image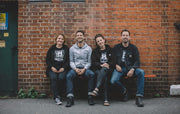 Section: Article title
BREWING SUCCESS MEANS BIG EXPANSION NEWS
November 28, 2017
Section: Article content
As we announce an exciting partnership to build a new brewery in Brixton, we look back on how we got to where we are, and forward to the next step on our journey…
Like so many of the good things in life, it all started over a pint. We met in 2010 in Brixton's former Hive Bar, brought together by that common delusion of early parenthood that your life won't change much. Of course you can have a baby and still hang out in the pub and chat to the couple next to you who also have a baby and are hanging out in the pub. And the next thing you know, you've started a brewery together. We all shared a love of Brixton and beer. We were exhilarated by the surging craft brewing scene in the UK and we knew we wanted to be part of it. Our mission was clear: to put Brixton on the map for great beer.
At first, we had few of the skills, none of the space or equipment, and little of the knowledge that we needed. But we had all of the confidence that it was possible, and a strong vision of the kind of business we would be – rooted in our local community; and the kind of beers we would brew –flavoursome, distinctive, but always balanced and accessible. We secured space in a railway arch in central Brixton and in 2013 Brixton Brewery was born.
Four years on from launching, we are a thriving community business brewing at our maximum capacity in the railway arch. We have around 15 employees and our beers have given people as far away as Italy and Hong Kong a little taste of Brixton in a bottle. Yet demand keeps rising, and we can't keep up. It's a nice problem for a small business to have, but it's a problem!
We know we want to grow, and to be at the forefront of the brewing industry, and of our family business. We want to be in the brewery every day, working alongside our extraordinary, hilarious, creative and talented team. We also know we want to remain in Brixton, this fantastically eclectic place that has inspired and nurtured us, and given us the names and characters of many of our popular beers.
These days industrial space in central London is the rarest of commodities. To expand, most businesses are forced to move production to the outskirts. For us this was unthinkable and having missed out on a unit up Brixton Hill earlier in the year, we couldn't believe our luck when we found the perfect, albeit much larger space just 600 metres from our current brewery.
It could take our brewing capacity from 12,000 pints a week to 60,000 and enable greater control over the process. It could help us keep brewing our consistently top quality core beers, while we experiment and innovate through our Ltd Edn range in our original brewery and Tap Room. It could mean more jobs and opportunities. And it was available.
To realise this unique and ambitious chance to grow in our home we needed serious investment. It was with pretty much perfect timing that we were contacted by Heineken UK. They had noticed us, liked what we were doing and wanted to see if we could work together somehow.
We invited some of the Heineken team for a brew day and were impressed by their knowledge, passion and insight. We got to know them slowly, felt that we had common ground, and built a relationship of mutual trust and respect. We were delighted that they believed in our vision too. They wanted to support us through investment in the new brewery, and eventually, through helping us get our beers out there to be enjoyed by more people. We are hugely proud of our success story, and see this partnership as the ideal way to keep the important things – the beer character, Brixton and our team – the same, while growing and evolving.
We will continue to be a great place to work, a proud London Living Wage employer and an approachable and accessible part of Brixton, supporting other businesses and community groups like the Brixton Windmill, the Design Trail and the Brixton Pound Fund. We look forward to rewarding our extremely hard-working team, and creating around 30 more jobs locally, while making our beers more available. We will be adding cans to our range for the first time, and transforming our Tap Room into a community-focused space for enjoying our beers and hosting events.
We hope it's clear how much we value the enthusiasm and support we've had so far. It's helped us transform from a small, family-run business, into a well-recognised local and national brewery. There's an enormous amount of hard work ahead of us getting our new brewery up and running. We want to thank everyone for supporting us so far. We can't wait to share the next step on our journey to do what we set out to do in the very beginning: put Brixton on the map for great beer.
Cheers!
Jez & Libby & Mike & Xochitl
Find our more about the new brewery, or just come down for a look at who we are and what we do. Join us for our annual Christmas Open Day party in our Tap Room. There will be brewers, music, gifts and beer. 16 December 2017 – Arch 547 Brixton Station Road SW9 8PF – 12 til 8pm.
Some key facts:
Brixton Brewery's founders will be the majority shareholders of the business, in partnership with Heineken UK.
The founders will continue to manage the business and guide its future.
Our brewery and Tap Room at 547 Brixton Station Road will remain open and functioning. Our regular Tap Room hours are 12 til 6pm every Saturday.
A new 30BBL Gravity Systems brewhouse will be installed in Spring 2018 in a 15,000 sq. ft. industrial unit on Milkwood Road.
Please follow us on social media @brixtonbrewery for updates and job opportunities.
Section: Newsletter signup
Sign up for our latest news
Send me personalised offers and news about the Brixton Brewery brand via email and online targeted adverts. Brixton Brewery Limited will process your data in accordance with our Privacy Policy. You can withdraw consent by clicking unsubscribe in any email or emailing protectyourdata@brixtonbrewery.com.