Section: Article image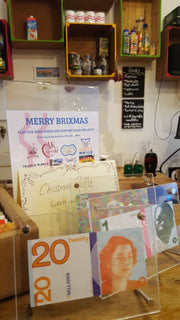 Section: Article title
BRIXTON FUND USES COMMUNITY CURRENCY FOR LOCAL GOOD
December 21, 2017
Section: Article content
Brixton has an extraordinary range of ambitious social organisations trying to make life better in our area. As a community business, we try to support as many of them as we can to give back to the area that inspired and welcomed us, including the 'hyperlocal' Brixton Pound/Brixton Fund. 
The Brixton Pound is among the most innovative, visionary and high-profile groups working locally. It's a currency aimed at keeping money circulating in Brixton, and encouraging a diverse range of businesses and services to stay in the area. The money, with its colourful and distinctive paper notes featuring local heroes like David Bowie and renowned social activist Olive Morris, has been operating since 2009. You can spend your notes, or sign up for the electronic version, at numerous businesses around Brixton, including in our off-sales and Saturday tap room.
Not content with merely inventing a new money, the Brixton Pound organisation went on to launch the Brixton Fund, a local grants scheme that directly funds projects that benefit the area. They also opened the Brixton Pound Café, a 'pay what you feel' café on Atlantic Road serving up delicious food, often made from donated surplus produce. Money raised from both the pound and the café go towards the Fund. When the staff of the Ritzy Cinema approached us about collaborating on a new, limited run beer, we all felt strongly that proceeds should also go to the Brixton Fund. The result was Britzy XPA, an extra pale ale brewed with all British ingredients that has raised more than £1000 directly for the Fund.
That means more money to support what Lucy Cava of the Brixton Fund calls 'hyperlocal' projects. She says, "What's really nice about the Fund is that it ties the project to the local area and people can see what they are funding." Lucy highlights the example of a recent initiative by WeRise, a social business that helps young people build professional networks and get project-based work experience. WeRise successfully secured funding for its PressGang, a week-long project that had 10 young people working with the Brixton Bugle to produce media content for the Brixton Design Trail 2017. It was an exciting opportunity for talented but unconnected young Brixtonites to get a taste of producing high quality multimedia material, guided by a team of professionals, and will likely have a lasting impact on its participants.
Lucy points out that the Brixton Pound organisation provides more than just funding. "Our ambition is to make the Brixton Pound Café into a community hub and platform for local groups. We provide support through the Fund, but there are other things that groups need, including affordable space to carry out their activities. That's where our café comes in." On the day we spoke to Lucy the café was a busy with members of Lambeth Better Together, the group formed in the wake of the death of MP Jo Cox, which has received money from the Fund to bring together people on opposite sides of the Brexit divide to encourage greater understanding and exchange of experiences between Remain-voting Lambeth and Boston, a Leave-supporting constituency in Lincolnshire.
In the last round of funding in 2017, the Brixton Fund had more than 40 applications for its grants. Check here for more information about the 2018 funding round, or find out how to support the Fund. Follow @brixtonpound on social media.
The Brixton Pound Café is at 77 Atlantic Road, SW9 8PU. Follow @brixtonpoundcaf on social media.
We've got the last keg of Britzy XPA on in our Tap Room so you can get a taste Saturdays from 12 til 6.
Section: Newsletter signup
Sign up for our latest news
Send me personalised offers and news about the Brixton Brewery brand via email and online targeted adverts. Brixton Brewery Limited will process your data in accordance with our Privacy Policy. You can withdraw consent by clicking unsubscribe in any email or emailing protectyourdata@brixtonbrewery.com.